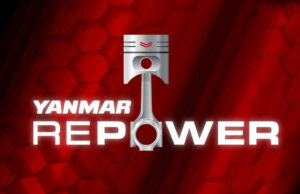 Are you in search of a powerful, reliable, and cost-efficient solution to bring new life to your equipment? Well look no further than the Yanmar Repowered Engine – the answer to reviving your machinery's performance, efficiency, and lifespan!
A Yanmar Repowered Engine is the solution to your diesel engine problems. Whether you are a seasoned professional or an individual looking to improve your equipment's functionality, a Yanmar Repowered Engine is the answer for you! Join us as you learn about the capabilities of a repowered engine, their diverse applications, and why Yanmar should be your number one choice in engine repair/replacement. Your equipment is about to get a new breath of fresh air, and here is how you can improve today!
What is a Yanmar Repowered Engine?
A Yanmar repowered engine is a new engine that is used to be installed into a piece of equipment to replace your existing engine. Yanmar Repowered offers four unique options to extend your equipment's lifespan by decreasing stress and depreciation. Yanmar is a top player in the diesel engine market due to its reliable yet cost-effective characteristics. A few reasons to use a Yanmar Repowered Engine are:
Increase your equipment's performance
Improve fuel efficiency
Extended service life
Adapt with modern technology
Reduce maintenance
Who would want a Yanmar Repowered Engine?
Anyone who works with diesel engines would be able to enjoy the benefits of repowering their engine with Yanmar. Industries such as construction and agriculture depend on well performing diesel engines to power their equipment. By choosing Yanmar Repowered, you can look forward to the promise of better value, shorter lead times, and a standard factory warranty!
Important Applications
Yanmar Repowered Engines can be used in smaller construction equipment and farming equipment. Customers from one-time users to large companies who buy in bulk can purchase the Yanmar Repower Engine to improve their equipment. Someone looking for a repower engine does not need to replace the whole entire unit if only one part is malfunctioning. Later on we will discuss the different variations of repowered engines to help you decide which option is best for you and your equipment.
Components and Configurations
Yanmar offers four different options for your replacement engine. Depending on the condition of your current engine, Yanmar Repowered has the solution for you!
The Short Block Engine
The first type of repowered engine that Yanmar offers is the short block engine. This type of engine is the most vanilla out of the four, only consisting of a complete rotating assembly. (Crank, rods, & pistons).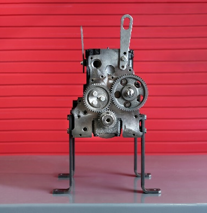 Head-Block-Crank-Engine
The Head-Block-Crank-Engine, also known as an HBC, is the second option for repowering your current engine. This is a step up from the short block engine, as it offers more capabilities and accessories. The HBC offers a cylinder block/head, a camshaft, a crankshaft, and an engine dowel.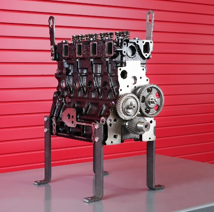 3/4 Complete Replacement Engine
The third phase of Yanmar Repowered is the 3/4 Complete Replacement Engine. This option is 75% complete and has everything the HBC engine has with the addition of a gear case, oil pan, and a fuel system.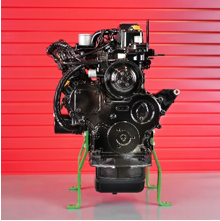 100% Complete Replacement Engine
The final form of the Yanmar Repowered Engine options is the fully intact and accessorized engine. This engine has everything the previous three phases have, but also includes a flywheel, flywheel housing, an engine fan + belt.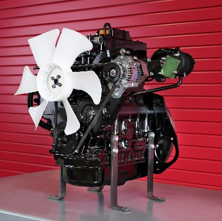 Warranty Information
As mentioned earlier, Yanmar Repowered offers a fantastic warranty that protects you from potential manufacturer/labor error. Here are some of the important takeaways you need to know about your Yanmar Repowered Engine Warranty:
Duration
Yanmar Repowered Engine generally provides a 2-year warranty option as well as a 2,000 operational engine hour warranty for each customer. This time period starts when you make the purchase and ends when either of the two circumstances listed above are met. Special circumstances may apply to your engine so be sure to confirm the warranty with your dealer/distributor.
Process
If you fall into this category and need a replacement repowered engine part, Yanmar requires you to notify them within thirty days of the malfunction. Before reaching out to your local Yanmar dealer, you must provide three documents:
Proof of ownership
Proof of Purchase/Delivery Date
Documentation of Engine hours
If you are eligible for repair, Yanmar will replace the specific parts free of charge.
How do I contact Yanmar Distributor?
In order to contact your local Yanmar dealer/distributor, you can follow these four easy steps:
Click on "Dealer Location" Button
Choose product category from the dropdown menu
Click on the "Search" button to browse YANMAR dealers in your area
What is Covered?
Parts that are warranted include:
Fuel Injection system
Cold Start enrichment system
Intake manifold
Turbocharger systems
Exhaust manifold
Positive crankcase ventilation system
Hoses, belts connectors, and assemblies associated with emission control systems
What is not Covered?
This warranty does not cover parts affected by/damaged by any reasons other than defective materials or workmanship including, but not limited to, accident, misuse, abuse, "Acts of God", neglect, improper installation, improper maintenance, improper storage, the use of unsuitable attachments or parts, the use of contaminated fuels, the use of fuels, oils, lubricants, or fluids other than those recommended in your YANMAR Service Manual, unauthorized altercations, ordinary wear and tear, and rust or corrosion. To see the full warranty terms, please view here.
Yanmar is also not responsible for the shipping costs to and from the Yanmar distributor. You are responsible for the shipping costs.
What happens to your Old Engine
You may be asking yourself, what happens to my old engine after repowering my equipment with Yanmar?
You will need to send the engine back to Yanmar headquarters via a Yanmar distributor. If for some reason you are not able to send this engine back to Yanmar, your local dealer may be able to offer alternatives for confirming the decommissioning of the engine. For specifics, please contact your local dealer/distributor.
Requirements from Crosspoint to Quote a Repower Engine
If you are looking for a Yanmar Reman engine, our sales team would love to help. Crosspoint Power and Refrigeration will require the information about what the engine was previously used in and the engine serial and model number.
If you are interested in a Yanmar Repowered Engine, please Contact Us or call at 317-240-1976.