APU Installation for Trucks
Make the most of your Auxiliary Power Unit (APU) installation at Crosspoint Power and Refrigeration.
Store and Manage Power Efficiently with a Carrier APU System
Crosspoint Power & Refrigeration has installed over 750 APU Units to help truckers save fuel and manage their power without running their main truck engine. Choose from diesel powered or battery powered units for your cab comfort.
When purchasing an APU unit, a quality installation is important to ensure the longevity of your unit, and keep you traveling in comfort for years to come. Learn more about the various types of units we install, and find the right APU Unit for your truck.
Choose from 3 APU Installation Packages:
ComfortPro Diesel APU Installation
Starting at $12,500, Installed
Includes:
APU System
12,000 BTU/hr Cooling Capacity
10,000 BTU/hr Heating Capacity
Tie in with truck coolant system
Tie in with truck 12v system for charging
16 hours installation time
We provide a 1 night stay at a local hotel
​
ComfortPro Electric APU Installation
Starting at $8,500, Installed
Includes:
APU System
10,000 BTU/hr Cooling Capacity
Charges off Truck Alternator
16 Hour Installation Time
We provide a 1 night stay at a local hotel
​
ComfortPro Diesel Old Stock
Starting at $8,900, Installed
APU Units are Old Stock Trade Show Units
Never Installed, Includes Full Warranty
Same Specs as the ComfortPro Diesel
16 Hour Installation Time
We provide a 1 night stay at a local hotel
​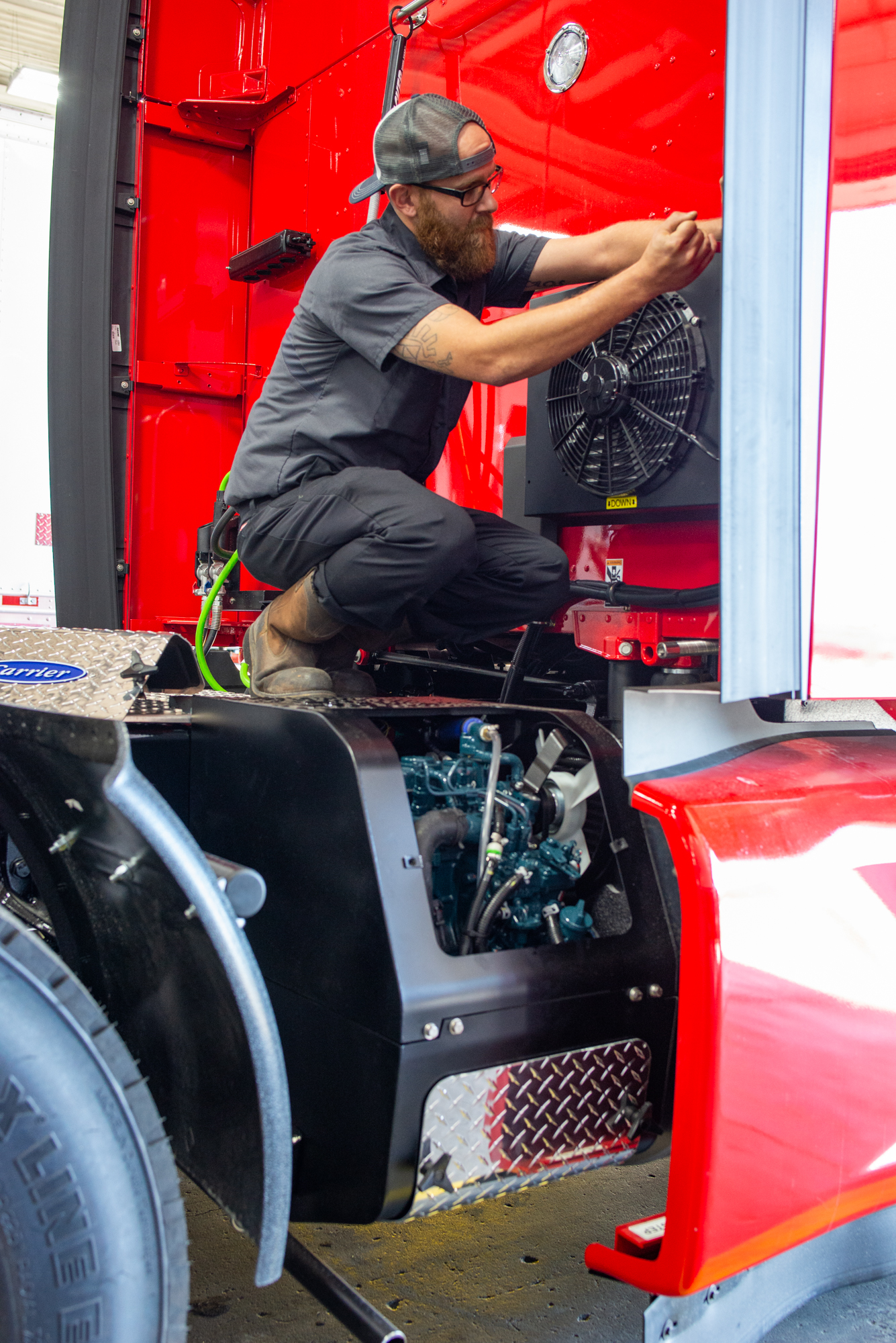 What to expect with an APU unit install at Crosspoint:
1. Pre-Installation:
We will start with an assessment of your truck. Not all trucks have the room for an APU install. Our APU units need around 22" of frame rail space. Generally, we will ask for pictures of your truck to ensure a straight forward install. If you don't have the needed space, we can look at alternatives such as moving the fuel tanks or mounting the APU engine under the steps into the cab. We have even mounted our APU engines inside saddle mount toolboxes. Sometimes, we will need to take a closer look at your truck. In this case we may ask for you to swing by our shop to take some measurements.
Our team will also complete a pre-installation check sheet. This will include where to mount the condensing unit, where to mount the a/c box under the bunk, where to position your vents, where to mount your 120v plugs, etc. This sheet will be completed and guide our installation team on any special requests you may have. You can download a copy of this sheet here.
Additional options are available such as an extra 120v plug, shore power, or inverters. Our team will discuss this when filling out the pre-installation check sheet.
2. Installation:
Next, we will schedule you in for your installation. We will ask that you arrive between 8am and 9am on your installation date. Our team will review your truck and the pre-installation check sheet with you to confirm accuracy. We also request that your bunk area be cleaned off (both above and below). If needed we will provide a place to store your belongings while the installation is completed.
Our installation team will then begin on your truck. Our basic installation takes 16 hours, however, if there are additional requests we may need some additional time. We will arrange for transportation to the hotel where you will be staying so that you can relax for the rest of the day.
3. Completion:
The next morning, we will have your APU running and we will be finishing up the installation. Our Pre Delivery Inspection includes a 4 hour run of the APU engine to ensure everything is operating correctly. Our team will call you around 10AM to update you on the status of your truck and arrange transportation back to the shop.
Around noon, we will be completing your truck. Our team will go over the final paperwork, review the operation of the unit, and confirm the settings within the driver control panel.
Early afternoon, you will be pulling out of the shop with your new Carrier APU, ready to enjoy all the comforts of home away from home.
Call to Schedule Your Installation: 317-240-1967